terrasil® Ineftion-Protection Wound Care Ointment MAXIMUM STRENGTH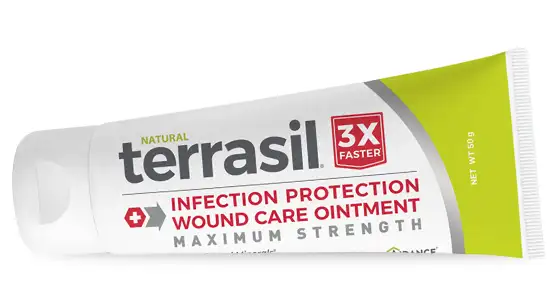 Soothing, natural terrasil Infection-Protection Wound Care Ointment MAX contains double the concentration of bacteria-fighting ingredients to form the strongest possible barrier against infection, for rapid healing of wounds, ulcers and sores. Doctor Recommended.
List Price: $57.00
Sale Price:

$49.95
12% Savings!
Terrasil Infection-Protection Wound Care Ointment
terrasil® Infection-Protection Wound Care Ointment is a unique all-in-one wound treatment system. This powerful FDA-registered remedy combines the latest science with the finest organic and natural ingredients for superior results.
Kills bacteria up to 3X faster than major brands*
Reduces the risk of infection
Promotes faster healing
Doctor recommended
Soothes itching and soreness
Calms inflammation and redness
Minimizes scarring
Improved results within 48 hours**
Contains a higher concentration of active ingredients
FDA-registered remedy
Backed by over 15 years of research
Free of unnecessary chemicals, artificial scents, parabens and potentially harmful preservatives
90-day, risk-free guarantee
Made in the USA
Terrasil Infection-Protection Wound Care Ointment is the only wound treatment available that features patented Activated Minerals®, a proprietary blend including Magnesium Oxide and Zinc Oxide. These nutrient rich minerals support the natural production of new, healthy skin cells, skin repair and reduced scarring. Terrasil's all-natural moisturizers and essential oils provide additional benefits to dry, damaged skin.
Terrasil Infection-Protection Wound Care Ointment also contains powerful antiseptic (bacteria-fighting) ingredients that reduce the risk of infection, which is the biggest cause of delayed healing in wounds. Doctors have tested Terrasil on even the most difficult-to-heal wounds, and have reported excellent results, as seen in the following video:
* Based on bacterial viability assay testing performed using a Becton Dickinson FACSCalibur™. Products tested were Bacitracin and triple antibiotic ointment.
** Expected product performance is based on customer experiences, as stated in customer feedback submitted over a seven-year period (as of September 4, 2012). The most reported period of time to see improvement is 2 days. Treatment times vary based on the user's overall health, the age and size of the wound, and the severity of any existing infection.
Active Ingredient:
Calendula 1X HPUS as a healing agent
Comfrey (Symphytum Officinale) 1X HPUS for inflammatory relief
Thuja Occidentalis 6X HPUS for skin eruption relief
Inactive Ingredients:
Beeswax (organic)
Cotton seed oil
Jojoba seed oil
Magnesium oxide
Mineral-rich clay
Peppermint oil
Sage oil
Silver oxide
Tea tree oil
Vegetable stearic acid (naturally sourced)
Zinc oxide
For more information on individual ingredients, please visit our ingredients page.
The letters HPUS indicate the component(s) in this product are officially monographed in the Homeopathic Pharmacopeia of the United States.
Directions:
Directions: Wash and dry affected skin. Apply a thin layer of Terrasil. Cover affected area with a clean bandage. Repeat procedure 2 to 3 times daily until skin improves. Store at room temperature.
Which size do I need?
The 14 gram tube of Terrasil Infection-Protection Wound Care Ointment provides enough ointment to address a small affected area. For a skin issue that covers a larger area or requires ongoing attention (slow-healing) we recommend our 50 gram tube or 200 gram jar.
Warnings:
For external use only. When using this product, do not get in eyes. Stop use and ask a doctor if condition worsens, symptoms last more than 7 days or clear up and occur again within a few days. Do not use on deep or puncture wounds, animal bites or serious burns. Keep out of reach of children. If swallowed, call poison control or seek medical help.
Terrasil Infection-Protection Wound Care Ointment: A Uniquely Effective Natural Formulation
Soothing Natural Moisturizers Penetrate Deeply For Complete, Rapid Relief
Terrasil's all-natural moisturizers (Jojoba Oil, Beeswax) and essential oils (Sage Oil, Peppermint Oil, Tea Tree Oil) provide multiple benefits to irritated, damaged or infected skin.
  Jojoba Oil is one of the world's most nutrient-rich and long-lasting moisturizers. The unique consistency of jojoba oil allows Terrasil to penetrate deeply in order to quickly deliver treatment to every layer of skin. It also has strong anti-inflammatory properties that soothe the skin, as well as documented ability to repair cracked skin.
  Peppermint Oil has been used for centuries to naturally relieve skin soreness, discomfort and itch.
  Tea Tree Oil has natural cicatrizant properties, meaning that it may support tissue development.
  Sage oil soothes inflammation and helps speed the removal of toxins through perspiration.
  Beeswax contains Vitamin A, which is known to condition skin and promote cell reconstruction.
Active Ingredients Protect Damaged Skin & Eliminate Bacteria To Reduce The Risk Of Infection
Terrasil Infection-Protection Wound Care Ointment features a powerful antiseptic (bacteria-fighting) ingredient, as well as a soothing skin protectant. Together, they form the ultimate barrier against infection, which is the biggest cause of delayed healing in wounds.
Patented Activated Minerals Target Infection to Speed Relief
Terrasil is the only wound care product available that uses patented Activated Minerals. This proprietary blend includes Zinc Oxide, Silver Oxide, and Magnesium Oxide. This technology was developed to facilitate faster, directed delivery of active pharmaceutical ingredients to significantly enhance their performance. In addition to their drug delivery properties, each of the ingredients that comprise Activated Minerals have specific skin care benefits.
Money-Back Guarantee
We are so confident that Aidance products will work for you that we will refund your money if you don't see the results you are looking for. Based on feedback, most customers start to see results almost immediately, however the relief process is slightly different for each person. If, after using one of our products, you are dissatisfied with its effectiveness in any way, you have a full 90 days (3 months) to return it and request a no-hassle refund.
Just to be clear, we understand that using Aidance products means, well, "using them." So, do not be bashful about taking a full 90 days before making up your mind, or returning a completely empty tube, bottle or dispenser. As long as you save the container and return it to us with an explanation of your dissatisfaction, we'll issue you a refund.***
We are proud to announce that even with this generous guarantee policy, less than 3% of our customers worldwide choose to return an Aidance product. (This statistic reflects the average return rate from customers in 150 countries, over a 7-year period.)
Confidential Product Support
Purchasing Aidance products is just the first step. We hope that you are satisfied with your experience of Aidance so far, and would like to offer further support to you throughout your use of our products. If you have any questions about applying our products or how they are working, please contact our Confidential Product Support service at 877- 424-3262 or support@AidanceSkincare.com. Callers from outside the United States can reach our customer service line by dialing 001-781-989-9586.
*** Valid for up to six products (including items that are free or discounted due to promotions) per customer per 90-day period. Refund is less shipping and handling, regardless of promotions.