terrasil® Anti-Fungal Cleansing Bar
2-pack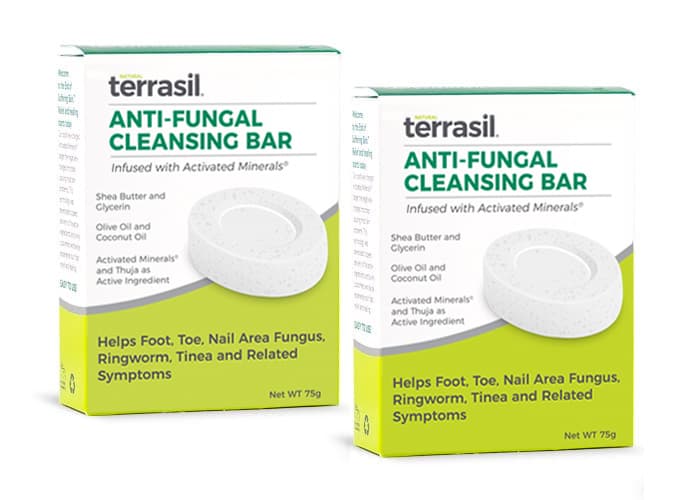 terrasil® Anti-Fungal Cleansing Bar helps foot, toe, nail area fungus, ringworm, tinea, and related symptoms
Relieves ith, rash, pain, irritation and redness
FDA-registered remedy
Improvement in 24 hours for even stubborn symptoms*
90-day, money-back guarantee
Terrasil Anti-Fungal Cleansing Bar is made with high-quality, natural skin conditioning ingredients like olive oil and shea butter, features a powerful fungus-fighting ingredient, and is infused with our patented Activated Minerals®. Use it with Terrasil® Ointment for even more complete relief from topical fungal infections and related symptoms.
Our positively-charged Activated Minerals® target the negatively- charged microbes causing most skin problems. This technology was developed to speed delivery of the active ingredients and is why customers worldwide experience such fast relief and healing.
Uses
For most fungal skin infections, including ringworm and tinea. For effective relief of itching, scaling, cracking, burning, discoloration, soreness, irritation, discomfort, redness and chafing associated with fungal skin infections.
Active Ingredient:
Thuja Occidentalis 6X HPUS as an antifungal
Inactive Ingredients:
Beeswax (organic)
Coconut oil
Glycerin
Jojoba seed oil
Lauric acid
Lavender oil
Magnesium oxide
Olive oil
Palm acid
Palm kernel acid
Pentasodium pentetate
Peppermint oil
Propylene glycol
Purified water
Silver oxide
Soldium stearate
Sorbitol
Shea butter
Sodium laureth sulphate (SLES)
Stearic acid
Sodium palmate
Sodium palm kernelate
Sorbitol
Tea tree oil
Titanium dioxide
Tetrasodium etidronate
Vegetable stearic acid (naturally sourced)
Zinc oxide
For more information on individual ingredients, visit our ingredients page.
Directions:
Wash affeted area with cleansing bar daily. For best results, use with terrasil® Anti-Fungal Treatment MAX ointment.
Warnings:
For external use only. Do not use on children under two years of age unless directed by a physician. Avoid contact with the eyes. If irritation occurs or if there is no improvement within 4 weeks, discontinue use and consult a physician. Keep out of reach of children. If swallowed, call poison control or seek medical help.
Money-Back Guarantee
We are so confident that Aidance products will work for you that we will refund your money if you don't see the results you are looking for. Based on feedback, most customers start to see results almost immediately, however the relief process is slightly different for each person. If, after using one of our products, you are dissatisfied with its effectiveness in any way, you have a full 90 days (3 months) to return it and request a no-hassle refund.
Just to be clear, we understand that using Aidance products means, well, "using them." So, do not be bashful about taking a full 90 days before making up your mind, or returning a completely empty tube, bottle or dispenser. As long as you save the container and return it to us with an explanation of your dissatisfaction, we'll issue you a refund.***
We are proud to announce that even with this generous guarantee policy, less than 3% of our customers worldwide choose to return an Aidance product. (This statistic reflects the average return rate from customers in 150 countries, over a 7-year period.)
Confidential Product Support
Purchasing Aidance products is just the first step. We hope that you are satisfied with your experience of Aidance so far, and would like to offer further support to you throughout your use of our products. If you have any questions about applying our products or how they are working, please contact our Confidential Product Support service at 877- 424-3262 or support@AidanceSkincare.com. Callers from outside the United States can reach our customer service line by dialing 001-781-989-9586.
*** Valid for up to six products (including items that are free or discounted due to promotions) per customer per 90-day period. Refund is less shipping and handling, regardless of promotions.